Welcome To Ted's Life
| | | | |
| --- | --- | --- | --- |
| Our House on Cameron May 2006 | This is Shrubbery House in Ombersley UK. This was my Mum's home while Dad was fighting in the WW2. It was also my first home before coming to Canada. | This is the home of Edward and Vicky Wheeler in Woking UK. Eddie is a second cousin on my Dad's side of the clan and is big in the golf community Eddie and Vicky would be one of the main hosts in 2010 during a reunion. | |
This house was built in 1882 and has survived two major explosions. One was a boxcar load of nitro-glycerine at the rail yard yard across the street in 1907. The next was a natural gas explosion at the end of the street on Feb. 14 1980. We, Judy and I bought the house in 1974 from my parents when they retired.
---





Here we are, Ted and Judy we own the "House On Cameron". It has been a fantastic experience being here. We have found out a lot about life ,love and ourselves working on this home and the surrounding gardens in the years we've been here. This is our 25th Anniversary picture. We have reached 30 now and are having a great time. Who knows what tomorrow brings? We can only keep doing what comes naturally and that is to love each other.
---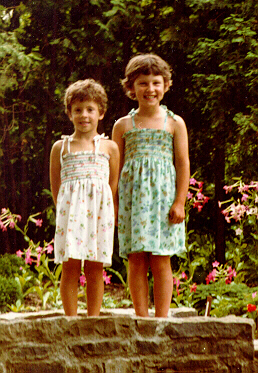 When two people who love each other get together things can become very passionate. We are no different! Here is the result of all that passion. Could we ask for more? Could we be more happy or proud? No way! This is Terry Anne and Kim our lovely daughters. Terry Anne was born Fri. June 8th 1973. Kim was born Fri. Nov. 6th 1975. This picture was taken at a place called Miniature World outside Hamilton Ontario toward Grimsby on The QEW highway.
However the years go by for everyone and two little girls tend to grow up. They mature and become young women. Terry Anne is now an employee of Indigo / Chapters at the Devonshire Mall in Windsor and Kim is Mrs. Kim Gignac. She reacquainted with a family friend while in Toronto with her Mom. Judy was on a Masters of Social Work grad course and Kim was supposed to be her aid. Kim and John-Paul were married May 6 2000 in a lovely wedding and now live in Toronto. She awaits the birth of her first child and our first grandchild in Nov.2001
---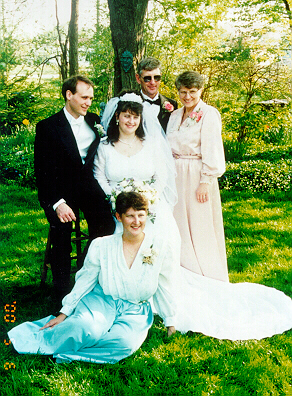 The wedding was a lovely affair and you really could not have had two happier families. The Wheelers and Gignacs have been friends since Kim was born 1 hour and 17 minutes before Ann. Margaret came looking for Judy the day after the blessed event to thank the woman who had managed to have the Doctor there on time. Little did any of us know it could work out this way. How often does a mother-in-law get to hold her daughter-in-law in her arms as a baby.
Well sometimes it just works and it did here. The day was warm and sunny the wedding was at Holy Name Church in Essex Ontario this picture was taken at the home of Mr. & Mrs. Don Turville 56 Cameron Av. Essex. They were pleased we would choose their yard for photos but they are very good neighbours and friends as well.
---
Charles Thomas Blake is from West Australia and was responsible for the Wheeler clan having a new Wheeler Family tree. I had been looking for a connection to the Wheeler roots on and off for a while and one day while surfing I came across the Essex England Genealogy page. In the list I found two Wheelers I wrote an email to the first and gave very little info. Charlie wrote right back very excited to have found a connection in Canada. He had been looking, for sometime. Charlie's Grand Mother was my Grand Father's sister and he was born Oct. 26th 1946.
The Roots of the family tree run back to this shot from 1776. This talks of the marriage between Ann Roseaman and Charles Crosswell. They were wed in St.Ann's church Soho, Westminster, London 1776. Their son John Welsted Crosswell married Sarah Prosser. John and Sarah's daughter married Charles Wheeler. Charles Wheeler would be my Great Great Grand Father. He would also be the same for Charles Thomas Blake.
Since this is Ted's Life I should tell you more about myself. I was born In Worcester England Jan. 21st 1946. My dad was Albert Leslie Wheeler. My Mum is Rev Margaret C Wheeler. Dad was in the Essex Scottish and met my Mum while in England during the Second World War. When I was born the doctor thought Mum miss calculated the day of my conception to which she said no way his Dad had only one day leave on the way to Canada. My older brother Peter was born Jan. 2nd 1944.
Mum, Pete and I arrived in Canada in May 1946. Our home was in Sandwich East on the edge of Windsor On. We had been there a short time, about two weeks when a level 4 tornado went by taking all we had. That was June 17th 1946. We can thank God that we were all spared. Good folks took us in and people helped with the rebuilding of the home .
I have 3 brothers and 6 sisters. We lived at the home in what became part of Windsor until April 1968. The city then expropriated out home and land for the E C Rowe Expressway. We moved then to the House On Cameron. It has been quite a life.
I was finished with formal education at 17 and went looking for work. I had a few jobs leaving each after about 6 months. There was a car wash, garage, car dealership labourer for a service company and then on June 25 1965 I went to work for Inter-City Truck Lines. I have been trucking ever since. I am now with TST Overland Express. In the 36+ years since, I have met a lot of neat people and learned a lot about life. There really is a sucker born every minute and sometimes we all fit that category.
Return To Top