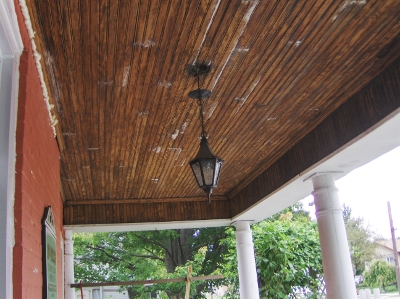 The work on the front porch had to start somewhere so we decided to start at the top. The ceiling of the porch is made of 1x4 boards cut to random lengths. The finish was at the time probably very attractive but with time it had become very old and rough. So we started by using a 2" scrapper and took off the old finish. It was scrapped twice and sanded.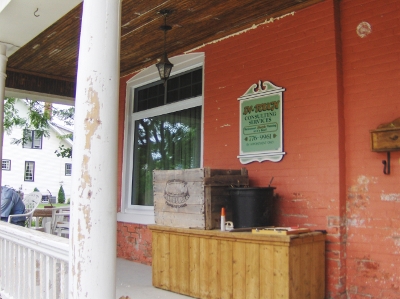 Once the scrapping was done then the cracks between to boards were filled and where the ceiling meets the house had to be caulked and smoothed out. The ceiling light which we bought a long time ago was taken down and cleaned.

The brick work which had been painted before my parents bought the house in 1968 needed to be redone also.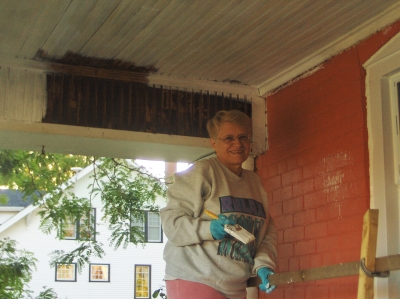 The next step was to add primer to the ceiling to reseal it. Judy does an excellent job with paint work. As with the scrapping this was a very tedious time consuming job. Some of the days were too hot or too humid to even work on. The corner behind Judy had to be filled as it was not meeting the house wall.
The primer once added helped to reveal where there were openings in the boards that needed to be filled with caulking. Also above the big window there was an area that needed some serious attention.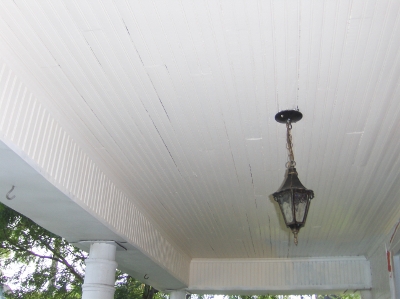 The ceiling now primed and with one coat of paint had the rest of the cracks filled and a second coat of paint. The crack filling took a lot of time and effort to get it just right. But WOW what a nice difference when it was all done.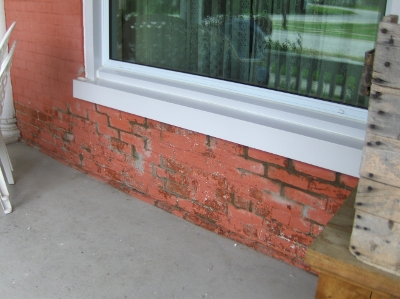 The brick wall as seen here needs a lot of work. There are very bad things people who mean well do that hurt brick walls. The first is to paint it and the second is to sand blast it. Once painted the frost will take the paint off and you will have to come back and do it again a few years later. Sand blasting takes the outer finish off and can lead to brick that just rots away. Here the brick needed to be tuck pointed scrapped and repainted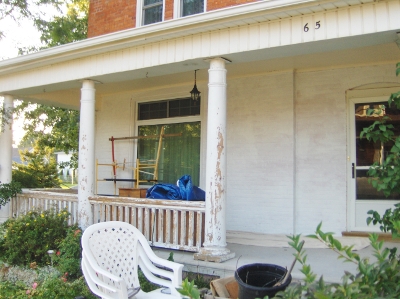 The wall at this point is all primed. While it is not noticed at this point we carried the prime and later the finish paint to the out side edge of the house. before it had ended at the inside of the pillars.

Also apparent in this shot is the condition of the pillars and rails that needed some major work. If time was not an issue we could have taken away the rails and pillars and really cleaned them up. This was not possible so we did the best we could with chisels and scrappers.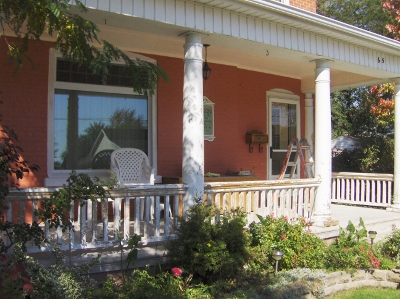 In this photo you can see the rest of the front rail. While it has been worked on it still needs a lot more. The last time we put the rails back, was after the new floor was poored they were not nailed in place. While we were working of this part of the job we secured the joints where the rail meets the pillas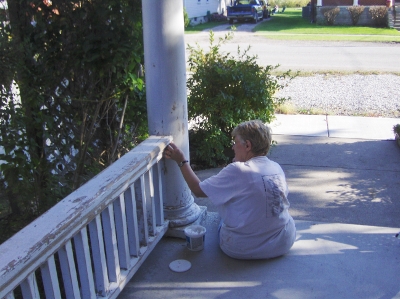 To help the work loo better than it would other wise Judy took time to rediously fill the openings where the rail and pillars meet