Home
Henderson Beach State Park
In early 2009 while surfing around on Google Earth I found Henderson BeachState Park. It is a small but lovely park on the North West end of Florida. From Essex ON. it is a 1000 mile drive. First crossing into Detroit MI., taking I75 south to Cincinnati OH then I71 West to I65 at Louisville KY and south to Montgomery AL. From Montgomery AL we take exit 168 east to 331 South to highway 98 (Emerald Coast RD.) on the Florida panhandle.

---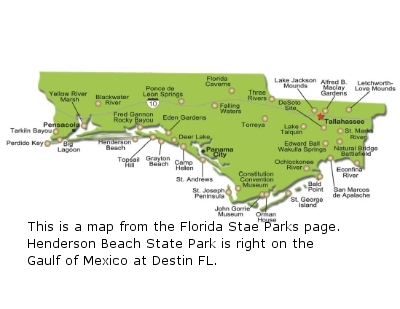 There is a public gathering, picnic and swim area. With very well designed and maintained shelters. They were building two new shelters while we were there. We thought it looked like a great place to camp so I tried to reserve a site. There are only 60 sites and they go very fast. The sites are gravel covered with electric and water at each site and a sanitary dump near by.
---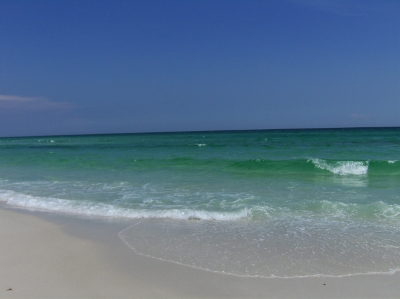 Judy and I decided we would go there from May 6th until the 17th. I started trying to get a site and began with May 6/7 and 16 on site 10. Then every day I would try to get more. We ended up filling all the days but it meant moving the trailer 6 times. One of the sites we had was #21. It was a good site and close to the boardwalk since we were so happy there we decided to try and rent that site for two weeks. When we came home we went back on line and we finally had the site for two weeks next year.

---
| | |
| --- | --- |
| We love to go down to the beach in the morning just to walk and enjoy the start of another day. We only have one day to enjoy God's creation. This is truly a blessing He has allowed us to enjoy. | Here is a cloud that can make you wonder what is going to happen now. Will the Monster catch the unsuspecting creature that lies in it's path. |
---
| | | |
| --- | --- | --- |
| | | There is something to be said for the relaxing joy of working with the great minds of children. Taking the time to inspire and add a little direction in the building of Sand Castles. Here James, Nicholas and Ted work to make a masterpiece. |
| Judy took two pictures first facing East and then West. From where Judy was standing this is what we saw. | | |
| Mike and Shannon Monk who we met at Henderson Beach State Park. They were a true delight to be with. | A very happy meal time with friends. Here we visit with the Monk family. From front to back is Judy and Ted Wheeler, Nicholas and James Monk, at the back is Mike Monk | I was bitten by two of these crabs so I bought a small net to catch them and check them out on my terms. After checking them out I let them go back into the water. |
| A big part of any beach vacation of course is the wild life. This is just one of the mainly seagulls we encountered. We were feeding them Terry Anne's home made cake. Not much as it was delicious. | Every day we would walk down to the beach and never be sure of what we would see. The water at Henderson beach is the waters of the Gulf of Mexico. The beach is so nice, soft white sand, the water is just this lovely emerald green. | The rain we encountered after our time at Henderson Beach and on the way home was not to be believed. This was taken after leaving my brother Pete's. We went from Zepherhills FL to Tifton GA. It rained so hard we ended up with water in the front of the trailer on the head of the bed. It was not really bad and we were able to dry it out with a hair drier Judy had brought. |
Return To Top