Welcome To Windsor Castle
It's your move God
Home
This house was built in 1959 and has been owned by just a few families. The first was the Vidicans. We are not really sure about who was here after that but we are here now. We looked at it in Nov 2011 and it was in need of a lot of help. We called a Realtor, in Nov. 2011, who told us it had been sold. Judy said "maybe we should call them and tell them what colour we like because they will probably flip it." Then on Feb 24 we drove by just to see what had been done. There was a sign in the window that said "House for Sale by Owner and a phone number. Judy called the owner who lives near by. He came over right away and showed us around. He is a very nice fella and Judy said "I knew we should have called you we like lighter colours but we knew we could work with it. Two days later Feb 26 we met him and his wife at the house. We agreed on a price and bought it on a hand shake. We started moving in right away and closed the deal on March 30. Thank you Tony you did a great job.
---
| | | |
| --- | --- | --- |
| This is the Adstoll Street view of our new home. So far we have cut down the trees at the corners and are putting in new gardens. There is a red sign in the window that says house for sale. This is the sign that caught our attention and led to us buying this house. | We start again on a newer house. While we have yet to sell The House on Cameron we are ready to let it all out here. We have started by having these trees cut down in preparation for the new driveway for our travel trailer. | This cute little spot is where that ugly tree to the left was. This was the result of a ton of work on the part of Judy and I. We dug and dug loads of dirt out. We then built a frame of pressure treated lumber and filled it with old broken concrete. To finish it off we used gravel and had a great place to park our trailers. |
---
This is a very different experience preparing a new home for our lives. It is a lovely three bedroom ranch with two kitchens, two full baths and lots of room in the finished basement. The person we bought the house from told us, on Feb 24 2012, that if we enlarged a window in the basement, to make it possible for someone to climb out, then we could rent the basement out as an apartment. We told him we needed it all! The work started with the painting of the basement and touch ups upstairs. One of the worst points of the house was the north side of the lot. The house is set up high on the property and then slopes down sharply to the sidewalk and road. This made it hard to maintain the lawn etc. So we started by renovating the out side.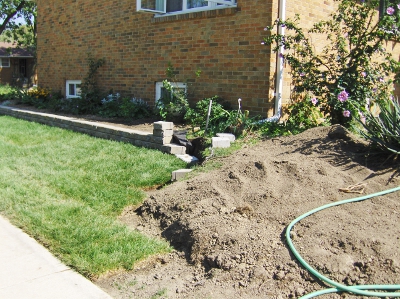 This turned out to be a very good idea as we were able to meet all the neighbours as we worked and they walked and or drove by. We shoveled day and night most of the dirt was sifted through a screen made of 1/2" rabbit cage wire. In sifting the dirt we found a lot of pennies, a few dimes , a 14k gold St. Cristophers Medal, plus a silver chain and a ring with shiny stones which we are not sure of value. The biggest plus though was the beauty of the yard as it was getting done and the joy in the hearts of the people who took time to comment.
Some people who live behind us, that we know as their son and his wife went to church with us in Essex, were having sod put on some of their lawn. I loaned the contractor our wheelbarrow and he asked could we use some sod. I said sure we could. They gave us 6 2x5' rolls of sod. Later a man was driving by who also did sod and he said "I have just done two yards with sod and have 30 rolls left would you like them for $30.00" How could we say no. We helped him empty his trailer and started working in the heat of the day. It took us a while but we did the job and there were actually 36 rolls and it covered the area we wanted to do the most with some left to put by the trailer parking spot. God was telling us every day that "Yes this is were I want you"! There could be no doubt. Judy, with out saying anything to me prayed "Lord if this is where you want us will you have someone tell us "Thank you for moving here". Later that same day a woman who's name was Angel stopped by on her way to her Dad's party and after some general conversation said "Oh by the way Thank you for buying this house"! Well Judy was almost in tears. So I ask you how much convincing do we need.
Return To Top