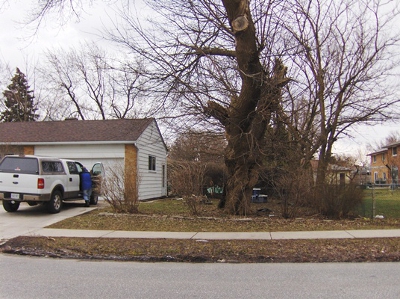 This is how it was when we bought the house March 2012. By the time we moved in March 30 2012 the 3 trees where gone and we just had a pile in mulch. Judy said that this Manitoba Maple should be on a halloween card. Some nieghbours would cross the street rather that walk under it. One in particular said when it was cut down she knew there was a God.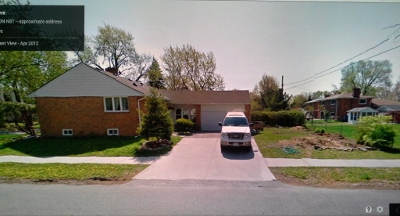 This shot was taken just after we bought the house. It is dated April 2012. The three trees have been cut down and shrubs along the property line have not come back yet from the winter.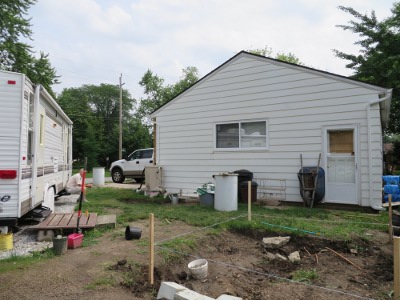 This is from mid summer 2013. We were in the middle of preparing for the shed to go in. The shed is in the utility trailer in the garage. We bought it on sale before we went to Florida. I was finally decided on a cement base for the shed and the driveway, sidewalks and shed base were done Sept 17.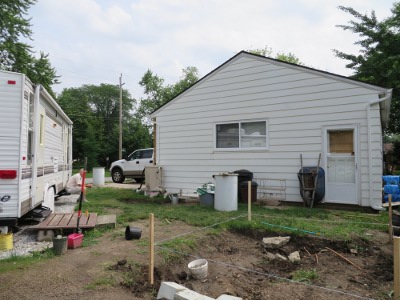 This is early summer 2014 when we were getting in gear to do the patio. At this time we were probably working on the arbor or fence on the east side of the driveway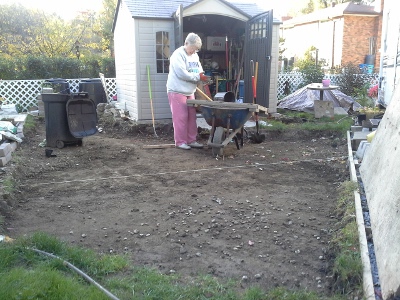 Before the stone and bricks go in the dirt comes out, down to clay. All dirt we move here, for the most part is sifted through 1/2" rabbit cage screen. At this time glass, clay chunks, stones, etc are taken out. At one point early on, when we first moved here we found a 14 karet gold St. Christopher medal and we have found lot's of pennies, some dimes and nickels.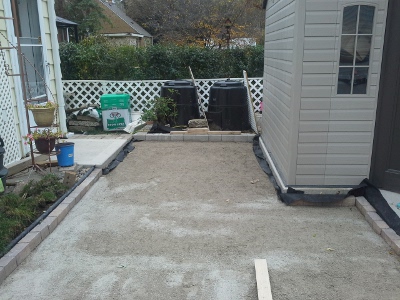 At this point the gravel is in and packed as best we could. In the back are two composters from one you can see tomatoe plants growing. The grass piled beside the patio is to be used between the pieces of sidewalk that will be laid along the fence between the houses.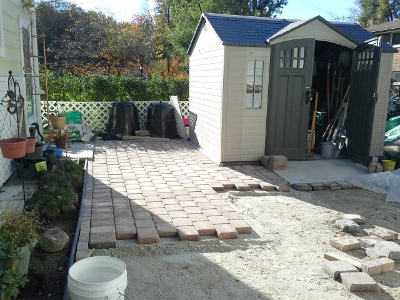 We bought 800 bricks from Lowes and a little over 700 were used in this job. It was a tough job with the leveleing and packing of the 0-3/4 stone then the screening. Judy picked out almost all bricks to make sure the colours etc. were good.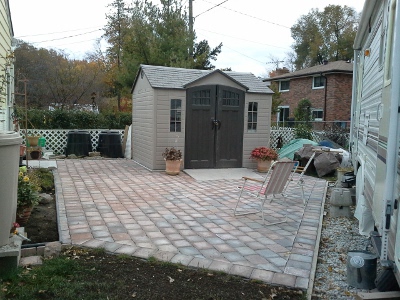 At this time the patio is done and there is a bit of other yard work beside the shed and where the dirt pile is. Thats it under the green tarp behide the trailer