Home

The Art of The Fall
Where do I begin, to tell the story of the "FALL"? On a Bill Cosby record he states "I started out as a child". Well that is something we all have in common. I am now almost 65 and between my childhood and now a lot has happened. Some of the events in my life have been fantastic.

I, along with Mum, Dad, Pete, and Faith, our cousin, survived one of the worst class four tornadoes in Canada. We went on to be a family of ten children four boys and six girls. We married, had children and endured all the ups and downs of life that every other family goes through. When we were young and growing up on E.C. Rowe it was a life that today, seems almost impossible. We climbed trees in our yard. There were two big maples that we built houses in and slept in too. There were evenings of playing hide and seek in the back yard where we could hide by just lying on the ground. Devonshire Mall had been a horse race track before the tornado and it became another play place. There was a pond where we built rafts and swam, grandstands to play on and under. Like I say life was good!

We go through life and "stuff" happens. We don,t always know why or how. This strange fault I have is a result of close family members becoming pregnant and due to deliver in Nov. It started when My Mum was expecting the last of my six sisters. Let me state here and now that I hold nothing against my sister Janet. Janet is a beautiful, fun loving, caring woman who just happened to be in the position of starting what has become a chapter in the "Book of Ted" .

The first event in the series was just before Janet, the last of the girls, was born on Nov 29 1961. I was working on a tree house and asked my sister Lesley to help me reach a ladder. I,not paying attention was standing with one foot on a dried up branch. The branch broke and I landed in the driveway. As luck would have it I landed on my head and didn't do much damage. All went on well after that and I never really thought much about it.

In Jan. 1970 while I was talking to a friend at Windsor Arena I was pushed of the rink boards by a very lovely woman who said "Don't say hi stuck up". This was one of those really fantastic events in the "Book of Ted" Well what else could I do I skated after her and now forty years later I am still chasing her. We were married May 22 1971 and it would take a long time to tell you how much we enjoy and care for each other.
In 1974 we bought "The House On Cameron in Essex ON. My parents had bought in in 1968 after our home was expropriated by the City of Windsor to make room for the E.C. Rowe Expressway. If you read that story you will know we love this old house even though it needs lots of TLC . In Feb 1975 we found out we were expecting or second child and were very excited. Or first daughter Terry Anne was a lovely talented and beautiful toddler by this time, she was born June 8 1973. How we love that little girl. In the summer of 1975 we decided we would put on new eves trough but first we would break off the routed cedar shingles around the edge of the roof. We borrowed a scaffold set from a neighbour and went to work. One day while working at the end of a long ladder laid on the scaffold about 17' high the support broke. I fell and broke my right arm and leg. That was Aug 29 1975 Judy was very pregnant and not to pleased. This was event number two. Kim Marie was born Nov. 6 1975.
---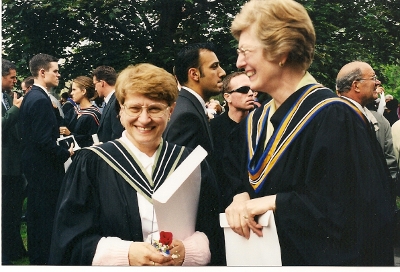 Time waits for no man and so it moved on for the Wheelers too. As a family we grew and learned a lot about life while razing two love girls to become the fabulous women they are now. In 1990 Judy went back to school starting at St. Clair College. After one semester Judy started University of Windsor. Judy finished at the U of W in 1998 and decided to go to the University of Toronto. We talked it over for a while and on Aug 14 1998 we moved Judy to Toronto where she would spend twenty months doing her masters of social work. Kim went along for the ride found work and a boy friend while she was there. The man Kim was dating was John-Paul Gignac. We knew his family since we had met when Kim was born. John-Paul's sister Ann was born right after Kim. Her dad Joe Gignac did the eves trough work on our house I had tried to do. He was helped by a friend Ed North.

Kim and John-Paul were married May 6 2000 in Essex On. They moved back to Toronto after the wedding and took up domestic bliss. In early 2001 they let us know they were expecting their first of what would be four great children. That summer there was a Pheysey family reunion in Tyrconnell On. Judy and I were the host couple. My Mother is one of four Pheysey daughters. The night before the reunion while getting a cooler out of our attic I closed the attic door. When I went to step off the stool the work shorts I was wearing caught the back of the stool and over we went. My right hand hit the floor and my right shoulder became dislocated. The ambulance was called and they helped me off the floor. They left and my mother-in-law came by to drive me to the hospital in Windsor. We are now at event number three.

---
In the summer of 2005 due to the bad condition of our garage we had built in the early 80's we decided to rebuild the base structure. We knew that Kim was going to have a baby, her third, in Nov. The garage rebuild was going very well and the structure ended up much tougher than it had started. One of the process's was to install new wall studs. Part of the job meant cutting off old spikes with a Roto-Zip. This is a small hand held tool that spins a cutting wheel at a very high rate of speed. At one point I was holding the running Roto-Zip in one hand and a hammer in the other. While tapping a spike too a better angle to cut off I lost track of the location of the Roto-Zip and almost cut my right thumb off as while as the nail. There we have covered event number four.

Terry Anne our first born, as had Kim went on a school arranged student exchange. While Kim had gone with Canada World Youth to Lloydminster SK and then Cuba Terry Anne went with Canada World Youth to Costa Rica in Central America to work in the Cloud Forest. Did I mention how proud we are of our daughters! Life had some ups and downs for Terry Anne after that but as usual Terry made the best of it and settled down at home to work and make some dollars. At some time Terry met a great guy Chris Matthews. They were married July 8 2006. On Feb 9th 2008 Florence their first child was born. Florie is as are Kim's four children a true delight to have around. In early March 2010 Terry and her family showed up and little Florie was wearing a shirt with the words "Big Sister" on the front. That is how we found our sixth grand child was on the way.

At the time all our thoughts and plans were around our rapidly approaching Florida vacation and my retirement which would be in Jan 2011. We were to leave for Florida April 24 with our travel trailer for a great 3/4 week trip to Henderson Beach State Park. While getting the trailer ready to hit the road I found a small crack in the sealant around the refrigerator vent. I brought out the step/extension ladder to get up and repair the problem. I set the ladder up as an extension ladder and went up to clean the area to be repaired. After scrubbing the area I decided I needed to use a wet cloth to finish it up. When I tried to get, fully back on the ladder it slid out from under me and I landed on the ladder and the patio slabs. The result was a severe comminuted fracture of the calcaneus, or broken heel. Here finally we have event number five.

Now how does it all come together? If it is all in the "Book of Ted" what is the link that holds it all. One day while I was healing Judy and Terry Anne were talking about it all. Judy thought a bit and said "You know Terry Anne I was at the same stage of pregnancy for Kim when Dad fell in 1975 as you are. Florie is the same age" The wheels had started to turn and if you know Judy once the wheels start rolling they don't stop until the final solution is reached. Judy realized that the other times I had been hurt where when Kim had Zoe, Nov 2001 and Edward, Nov 2005. Until this time it had been called a pregnancy curse. This has to be taken lightly. Pregnancy to us, IS NOT A CURSE! It just happened to be when I get hurt. So we talked some more and Judy asked me "when you were hurt as a teen and fell out of a tree when was your Mum due and who was born"? I started thinking and remember Lesley helping me with the ladder. So I went to the family tree and narrowed it down to the birth of Janet my sister. Janet was born Nov. 29 1961

Well I am now healed up enough that on Oct. 4 I was cleared to return to work. I am now on three weeks vacation and will go to work, where I drive truck, on Oct 25. My sister-in-law Pam calls it a deficit and that it may be. The result is when one of my grand children becomes pregnant I think I will just stay in bed but at least that is a little way down the road.

We all have an owners manual when we are born. It's there in front of us. It is the little and sometimes big things that happen to us each and every day. There are the wonderful events like meeting the most wonderful person, that you can be with for your life. The daughters or sons you have along the way and do I need to tell you about the great and I mean great little grand children that come just when you need them to keep you guessing and running. Then there are the hurtful ones when you break things. The times that stress out that lovely person who means the most to you. Yes they are all there and sometimes we find them early. I am now almost 65 and we are just finally figuring out the "Book of Ted". There are days I think it's maybe a good thing I couldn't know it as I may have missed some great times.