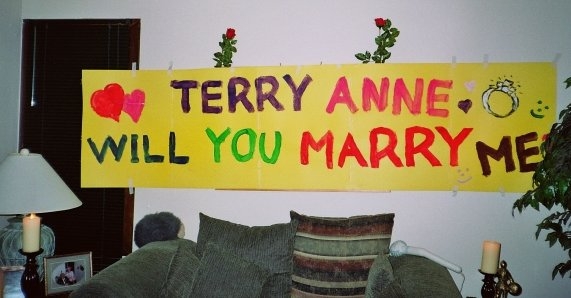 Well, there is great news to report.
Home
On September 4, 2005, we received a phone call for which we have been waiting. Chris Matthews called and asked for our lovely daughter Terry Anne's hand in marriage and our blessing. They have been dating for two years after meeting on line. Chris lives in Windsor, Ontario and is an architect They are planning a wedding for July 8, 2006. There will be an engagement party at our home on Dec 3, 2005 with a Christmas theme.

Terry Anne, Chris and Margaret Fittler at Peace Gardens. Let's block the photos for the wedding a week away.

The Bridal Couple have their first dance

Back L-R John, Brenda, Chris, Terry Anne, Amy, Mike
Front L-R Steve, Tracey, Serafine, Zoe, Alex, Kim, Randy

The Matthews gang prepare to strut their stuff. If you see them do not try to apprehend, just call 911

The very happy couple share a moment they have waited so long for. Dress by Judith A Wheeler.

Mr and Mrs. Chris and Terry Anne Matthews July 8, 2006

Well Terry Anne and Chris are a very happily married couple now. They were married July 8 2006 and went to a resort in Halburton area of Ontario. In the winter, Feb. they went to Disney World in Florida. It was a great time and we are so happy that life is unfolding so nice for them. Chris is a self employed Architect and Terry works for a party store in Windsor.