Where Are We Now
| | | |
| --- | --- | --- |
| This is my Dad's family at his birth. He had one sister and one brother. | The years go by so fast. This is Granddad,Nana, Mum and four sisters. | |
| This is Our Family. A very happy bunch! | This is at the Howdenvale home about 1976 | |
| This is a portion of the Wheeler family when they are left to work the magic God designed. I can only imagine how large it would have been if they could all be here. It was a great time for sure | | |
This is where we were 1 July 1978, Calgary AB. It was Norma's marriage to Edward Cheng. They had met in Calgary and were very happy. How did we, The Wheeler Family get here? What little and sometimes big roads had we walked? I will try to make this as interesting and honest as I can.

In Worcester England 1940 my Mum, Margaret Pheysey went to see her Dad who was in hospital. There was a wait time between the bus arrival and when she could go to the hospital. So Margaret went to the cinema to see a show. It was just a regular day like any other day. There was a war going on in other parts of the world but right here, right now was just a regular day. She is waiting like lots of others for the doors to open when behind her a deep voice with a strange accent asks " What time does this joint open". Now talk about a pick up line! Well that is the story Mum has told several times over the years. The Canadian soldier, who would become the father of The Wheeler Family, talked to Margaret and they went to the show together. When she left so did he and followed her to the hospital and then home. Les. Wheeler was in Worcester to visit his family who had stayed in the UK when his Dad and Mom moved to Canada in 1912.

They were together forever after that first meeting. He was given leave to go to wedding rehearsals. They were married 23 June 1942 in a little church in Ombersley England. Then Dad would come home when he could and in 2 Jan. 1944 Peter Lesley Wheeler was born. The war was moving along and Dad was off to France. Then finally the end was in sight. It was 1945 and they decided that Dad would be sent back to Canada. He met with Mum and they had some quiet time in the south of England. Dad then went off to Canada and Mum, with the war ending would prepare to join him there as a war bride. Then Mum had to wait for her next child to be born and I came early at 8 months 21 Jan 1946. We then sailed to Canada.
What is making that awful noise? Les close the window! Those are the words Mum spoke the afternoon of 17 June 1946. Dad turned to close the window and horror struck when he saw the boxcars blowing off the tracks at the round house center. So here we were only three weeks in Canada and we loose it all. Well God was not done with us yet. He wanted us to know we could survive and thrive in the long term. One of the main results of this is Mum's response over the years "We are blessed beyond measure". The house was rebuilt with help from people we hardly knew a,d we were invited to come to a place in Windsor to select clothes and supplies we needed from extras that had been collected for the war effort. It was fifty nine years later that I heard this report for the first time.
The family grows
I do not remember a lot of the next years but I know it was interesting to see our family grow with the birth of more children. 29 May 1948 Paul Robert was born. Another boy, Mum must have thought what am I doing wrong. 27 April 1950 WOW a lovely surprise a baby girl Pearl Florence. Pearl was the first of six beautiful girls. 18 July 1951 Margaret, 30 Jan. 1954 Helen Patrica, 24 Oct. 1955 Lesley Catherine, 25 June 1958 Norma, 29 Nov. 1961 Janet Elizabeth, 4 April 1966 David John, yes end of the line for the girls and where to stop for the expansion of the family.

Where Did They Go
The time came when we all had to spread our wings One sure thing about our Mum and Dad, they taught us to grow and explore. So much today children are stuck in the house playing on devices and watching videos. As I see it we had the better chance. While it was not perfect and we did get into some stuff better left out we were allowed to explore the world in our own back yard. To stretch our wings and learn to leave the nest when we each felt the time was right.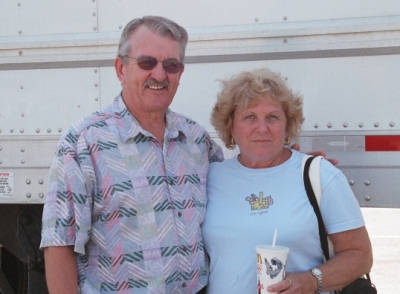 Pete and Marie at Dutton Truck stop.
Peter, the oldest, did well in school. He went to Gilmore Public School and then Kennedy Collegiate. During his high school years he was in the reserves and spent a summer at Ipperwash army base and one at Camp Borden. After graduation Peter went on to join the Canadian Army.

Our Mum had three sisters. One of them, Aunt Pauline lived 700 miles away in Providence Rhode Island. We would go there every few years and it was a fantastic time. My Uncle Al, Aunt Pauline's husband, had family there also. His sister was Marie Richards and they had a daughter named Marie. Well Pete and Marie hit it off and they were married in 1963. They had four sons Peter, Greg, Scott, and Paul. After leaving the Army they moved around a bit, They lived in Calgary AB then Johnston RI Then they finally moved to and retired in Zephyrhills Florida. Peter enjoyed the RV lifestyle and traveled a lot. Peter developed cancer in his early sixties and died July 8 2012 in Providence RI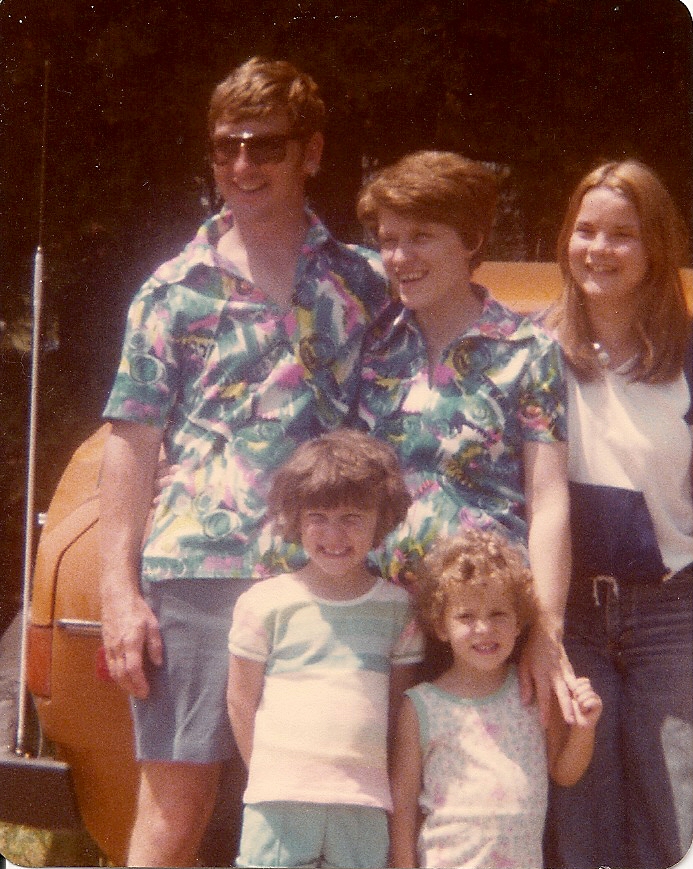 This is Ted Judy with Terry Anne Kim. Also is a foster daughter Cindy.
Edward (Ted) did not do as well in school for a number of reasons. In one of his early report cards Mum wrote "I would get Ted to read more if I could get him to come in the house". I Loved the outside the trees, the fields, the gas engines, riding bikes, I did it all. Usually with Pete or Paul.

I went to Gilmore School and then in grade 4 they moved me to John A McWilliam, which was a new school built closer to home. In grade 8 I went back to Gilmore. Not sure why but anyway at the end of grade 8 they told me your marks a too low for grade 9 and you are too old to repeat grade 8. School was a hard time for me and I can see it now in for sure one of my grandsons and grand daughters. They find it hard to make friends and fit in. I remember crying on my bed and Mum saying "Whats the matter" to which I responded "I have no friends". Well I went to W D Lowe an all boy tech High School. The plan was if you did well in the 2 year program you went on to regular high school if not you were out. I did good in the tech areas but no where else. June 1963 I was done school and out in the work force.

I was blessed from day one after school. We went on a trip to Pembroke ON. where my Mum's older sister Aunt Pat lived. when we came home I tried out for the Navy, no thank you. I found a job at West Grand Auto wash. Six months later a friend from Church suggested I try out a Clappers Shell where I worked on and off for a while. Six months from the start of that job I went to Downtown Motor Sales where I worked for 6 Months and then A H Hall Mechanical on the recommendation of the people at Clappers Shell. That went fro Feb to June 1965. I June 1965 due to a misunderstanding I started to work for Inter-City Truck Lines. I stayed in trucking until Jan. 2011. Like I said it was a great life.

While working a Clappers Shell I was able to get to know Irv Asmar. Irv would go home and talk about me with his family. He had a sister Judy who wanted to get to know me. In Jan 1970 while skating at Windsor Arena I stopped to talk to Irv who was there with my sister Margaret. Next thing I know I am on the ground and this very pretty girl is saying" Don't say HI stuck up". We had our first date Feb 14 1970 and have been joined at the hip ever since. We were married May 22 1971. We have two daughters Terry Anne and Kim Marie.
| | |
| --- | --- |
| | |
Paul Robert: A good brother and friend. Paul followed Ted in the school path but he did better. He went kindergarten at Lincoln Rd. United Church then to the same schools except when he was done public school he went on to Kennedy Collegiate and Essex High School. Between Kennedy and Essex Paul worked for 1 year at the Chrysler Assembly. Later Paul went to the University of Windsor, Huron College in London ON and then the University of Western ON. Paul and I were together most of the time. We loved bikes, tree houses, hiking, rafting at Devonshire just a great time to be a child growing up in the country. One very Sad day while working on a farm harvesting corn Paul lost his right arm and left ring finger in the harvester machine. At the time Paul was engaged to Ann Holinworth. We had known the Holinworth family, who owned the farm, since we were little. It was their farm that we worked on from time to time. Paul went on to be an Anglican Priest and had several postings ending in Vancouver BC. It was a very hard time but they worked it out and had three daughters. Amanda Sarah and Rebecca.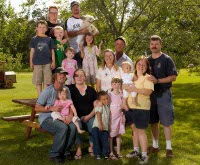 Pearl Florence: Pearl was the first of three lovely girls after four rowdy boys. Pearl followed her older brothers in some areas enjoying the outside but also dolls and buggy's. Pearl went to J A McWilliam school and the to High School of Commerce in Windsor. At one time in the late fifties a Priest came to St Luke in The Field Church who was from England and we became good friends. When he was done at our church he moved to the little town, at the time of Exeter ON. We would go there to visit and of course met new friends there. One of the people we befriended was Tom Elliott. Tom was and is a great guy. He like to hunt fish and tell fun stories. He and Pearl hit it off and they were married. They lived in Exeter for a time and then moved to Calgary AB. They had four boys, Thomas , Samuel, Christopher, and Daniel. Pearl died 7 Jan, 2016 in Plamondon AB.
| | |
| --- | --- |
| | |
Margaret was a pretty little one with darker hair and eyes. She was a bit of a tom boy always trying to keep up with the boys. Margaret went to J A McWilliam School and As I remember Margaret became acquainted with Irv Asmar because of coming to the gas station where he and I worked. They dated as did his sister Judy and I and were married in Sept. 1970. They had two daughters Cherie and Tammy.
Helen, wait not another girl, when will we get another brother. I was wondering how long this would go on. Helen was and is a strong hard working woman. There were time when she was young Helen helped me deliver Star Weekly magazine. One time riding up a driveway she fell out. That was not one of our better days Helen also went to J A McWilliam school Essex High School then on graduation she went to University of Windsor and did a BSW. Helen later went to University of Western ON for a Bachelor of Education. Helen married Mark Loyal and they had one daughter Kathryn.
Lesley was a little bundle of fun. She went to J A McWilliam school and Essex District High School.

Norma
| | |
| --- | --- |
| | This is Janet and Ron two mor in love people you don't see. |
Janet Elizabeth: NO not six girls, well at least she was cute and has grown into a lovely talented woman. Went to John A McWilliam School the Maplewood. The family moved to Howdenvale and so Janet went to Wiarton High School Then Sheridan College where she trained to be a Nanny Then later to Conestoga College for a degree in Business Management.

This is Dave and Sue's family at the reunion 2007. It is David, Susan, Derek, Colin, and Arron. David just cann't seem to be a normal Dad sometimes.
David John: Finally a fourth boy, a very hug able blond baby. He was the first one I took on a trip with me. When he was four we went on the train to Pembroke. It was at New Years and we had a great time. The trip home went through North Bay. Being raised on the Bruce Peninsula on the edge of the Lake Huron David spent a lot of time canoing, Sailing and Kayaking. One time he towed home a beam so large it went all the way across the front of the home and I had to cut it in half to tow it home. David went to Dowswell school for kindergarten then Maplewood to grade two. The family had then moved to Howdenvale ON and Dave went to Wiarton Public, then Wiarton High School and Georgian College for Navigation.

David