The Engagement
Home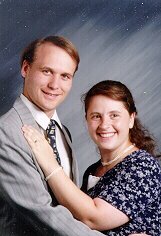 This is Kim and John-Paul's engagement picture. Are they not a lovely couple. Kim is 24 here and a very happy girl. John-Paul Gignac is just perfect for Kim at least we all think so. John-Paul and his family have been friends of ours for a long time actually since Kim was born. This due to the fact that his sister Ann was born right after Kim and if the doctor was not already there he would not have made it on time to assist in her delivery.
John-Paul's family are from Lasalle ON. just on the edge of Windsor. Joe Gignac, his Dad, and Margaret, his Mom, have 6 children and Ann Marie is their fifth child. The day after Kim and Ann were born Margaret came looking for Judy at the showers to thank her for having the doctor ready. That is how they met and we have been friends ever since.
Kim and John-Paul were married on May 6th 2000 in Essex Ontario. It was a lovely day and even the weather was beautiful. Several weekends after this time the weather was terrible. After the wedding there was a lovely reception in Windsor at the Serbian Center. The next day they went to Disney World in Florida for their honeymoon. At this time they live in Toronto Ontario and have one lovely daughter Zoe Marie They are planning a move to the Windsor Lasalle area in the near future.
| | | | |
| --- | --- | --- | --- |
| | The lovely wedding took place May 6 2000. It was a lovely day and we were so happy for them. This photo was taken across the street from our house in Essex, the home of Don and Marg Turville. | This photo of the family was taken Feb. 24, 2007 shortly after Grandma gave them hair cuts. | Kim was our second lovely daughter. Kim and John Paul were married May 6 2000. Their children are Zoe, Alex, Ted, and Theresa. |
---
Well how the times they change. Kim and John Paul did move to Windsort in 2002. As luck would have it they were blessed with a lovely family of two girls and two boys. They are Zoe, Alexander, Edward, and Theresa. The children are a fun bunch and sometimes hard to keep up with but we love them lots and enjoy their company. Return To Top