Dad's Family
Home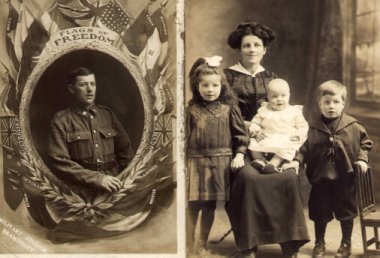 These photos are from post cards of the time. The back of the card has the date 1915 on it.
This is the start of my Dads family. That is granddad on the left in his world war one uniform. Nana has the children gathered round in the right photo. My granddad was from Plaistow England. Born on March 13th 1886. Nana was born Florence Maud Gilling. She was from Grays Essex England. He was in the Merchant Marine and while on leave met Nana in a shop that was owned by her family. They were married Feb 27th 1906. Thats Dad on Nana's lap. He was a great guy. He was born in Guiles Ontario Canada near Blenheim. He went to England in the Second World War where he met and married my Mum. My brother Peter and I were born there and the rest of the gang were born in Windsor. I am the second of ten.
On Nana's right is my Aunt Florie. She was born Florence Jane Wheeler and married Samuel Cox. She was always working for the Legion and was on the woman's auxiliary. She loved to bake and when we went to her house we always had treats and she told us stories . Florence had four boys we called them Uncles but I came to find out they were cousins just older. They are Murry, Bob, Ted, and Roger.
The boy on Nana's left is Uncle Ted or Edward Charles Samuel Wheeler. I never knew him as he died in the second world war on his way to Dieppe. It's sad because he left behind a wife who loved him and three little girls. Pat Carol and Faith. Faith died young Carol and Pat I have lost track of. Our
granddad, was fun, at least I thought so. This picture is when he was in the first world war. That was right after he moved to Canada from England. Can you imagine, you just come to Canada to live and raise a Family then you have to go fight in a war right back where you just came from.
Nana and Grandad lived with us for a bit then I remember they lived at 789 Ypres in Windsor. They had a budgie bird who drank the foam off granddad's beer and the bottom off a mirror they had. One thing I remember most is Grandad took me fishing when we went to Rondeau Provincial Park. I do really miss them now!
| | |
| --- | --- |
| Dad and Mum at Howdenvale | This is a photo of my Nana, Granddad, four of my sisters and my Mum. |
| | |
| --- | --- |
| This is Dad's brother who died in the II world war | |
| | |
| --- | --- |
| This is Dad's Uncle Charles Henry George Wheeler | This is Dad's Uncle |