The Women in My Life
Home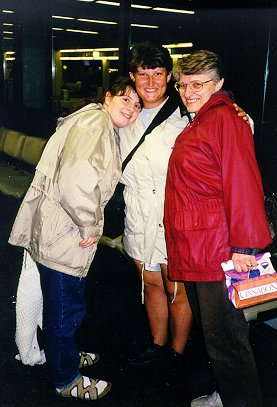 These are the women in my life. From left to right, this is Judy, Terry Anne and Kim. This photo was taken at Detroit Metro Airport. The day was April 14th, 2000. That occasion, I'll leave for another story. Terry Anne has just arrived from Guyana, South America, and Kim is only three short weeks away from her wedding to John-Paul Gignac. What I can say is we were very glad to be here, and thank God for this happy occasion.
It has been a real joy having my girls around. Judy has always been there for the girls and myself. She always has a way of putting a smile on our faces and joy in our hearts. Judy and I met when she pushed me off the boards at the Windsor Arena. She knew about me since I worked with her brother. She wanted to meet and took a chance. We are both glad she did!!!
Terry Anne is our first daughter and always finds a way to make Judy and I very proud of her. Terry Anne was born June 8th, 1973 around 4:00am on a Friday, in Windsor, Ontario. She now works at the Chapters-Indigo Bookstore in Windsor.
Kim can bring me to tears way too easy. Kim was born at around 4:00am on Friday, Nov. 6, 1975 in Windsor, Ontario. Kim is married to John-Paul Gignac. They have one daughter. She is our first granddaughter, Zoe Marie Gignac. Kim and John-Paul currently live in Toronto Ontario.
All together they make my life a lot of fun. Having three women around meant nice open conversations on ALL topics. I wouldn't change a thing, even if I could. It is always important for a man to remember the women who made it all possible in the first place. Here we have on the left, Judy's Mom, Beatrice Asmar and on the right my Mum, The Rev. Margaret Wheeler. Both are great grandparents to Zoe Marie. I am very grateful for the important part they have played in raising Judy and I and the influence they have had with our own children. Now I know they will pass this on to our grand children as well.


| | | |
| --- | --- | --- |
| This is Granny Asmar, Bea Asmar with Zoe Dec 2001. | This is Granny Wheeler Rev Peg Wheeler with Zoe also Dec 2001. | This photo was taken Feb. 3, 2008. Terry Anne had a baby girl, Florence Elizabeth Wheeler Matthews on Feb 9. Kim will have her baby March 26, 2008. Kim was blessed with a baby girl Theresa Marie Gignac. |
Return To Photo Gallery